#bidenatcostco VP Pool Report, Because It Really Happened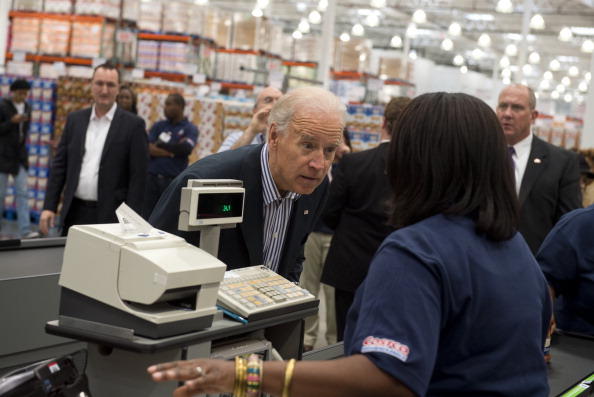 ——- Original Message ——-
From: Lesley Clark 
Sent: Thursday, November 29, 2012 10:36 AM
To: Allen, Liz
Subject: VP pool report 4
Motorcade rolled from  Costco at 10:12 am, w VP stopping to talk toreporters after wheeling a cart filled w among other things, childrens' books, fire logs, a 32 inch Panasonic tv and a big apple pie to the registers.
He called on congress to extend bush era middle class tax cuts, saying that "consumer confidence is growing, the last thing we need to do is dash that."
He said that he'd talked to people around the store a that "all the people u meet and see… Folks don't need to see their taxes go up."
He said "it's important congress acts now, right now."
Unknown if he bought a watch, though he spent considerable time at the counter looking at them, including a $1,200 one, and put in a call to his daughter, Ashley, saying he needed to "get some guidance."
Before leaving, he placed a call on Ivey Stewart's phone. Couldn't hear what he said, but she broke into tears and got a vice presidential hand on the shoulder and a hug.
Biden also availed himself of several Costco food samples, and looked like he enjoyed them.
The store was clogged w shoppers who whipped out cells and iPhones to snap the VP.
There were lots if Delaware natives in the store who got giant Biden hugs and handshakes.
He did a loop of nearly the entire store, including bakery and frozen foods.
But Biden turned down the employees who were trying to lure him to the tire department.
"Hey man I don't need tires," he said "I don't drive anymore."
Back at WH at 10:30 w/o incident. [Ed. note: I am guessing the WH has a pretty low bar for "without incident" when it comes to Joe.]
Per WH official: On background:
The Bidens have been Costco members in the past. The Vice President and Dr. Biden's Costco memberships were re-activated yesterday; they paid the $55 membership re-activation fee to receive their new cards. The Vice President received his own card which he is carrying today while shopping at Costco.
Lesley Clark
White House Correspondent